Someone once told me that you should never love something that can't love you back. I believe that's generally a really great piece of advice to live by. But that was before. Before I fell in love, before I feel in love with chairs. Yes, I know a chair is definitely something that can not love you back, but so what, who cares, I'm going to love away on my new chairs and anyone (well at least 3 others) is welcome to join!
Check out these chairs I scored on Craigslist. Beautiful right? I have always loved the look of rattan dining chairs but when I find ones I think I love, it doesn't stick, because the price is usually way out of my budget. But not these babies, that's probably why I love them even more, who can beat 4 "practically new" Crate and Barrel chairs for $87each? They are a few years old, so they don't sell them in stores any longer but I found online that they originally cost $399 each!
Lets check out some competitors shall we?

Storsele Chair from IKEA – $119 each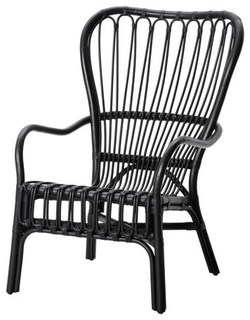 I would say that I got a pretty good deal, compared to similar styles.  I will be sharing more pictures of the chairs soon, once my dinging table is complete, its currently under construction!